"Harpagan" Extreme Orienteering Challenge is the biggest orienteering event in Poland. It takes place twice a year: in April and October and it has been so since 1989. The motto of the Challenge is "We know ourselves only to the extent to which we have been tested" (Wislawa Szymborska, Nobel Prize laureate).
Over 1000 participants, among them the best Polish ultramarathoners, face the distance, map and their own weakness, regardless of the weather. Each time, the headquarters of the Challenge is located in a different city of Pomeranian Voivodeship and most of the competition takes place in woodlands. The checkpoints are confirmed by electronic Sport Ident system.
Every participant, who completes any of the Harpagan Classic routes within deadline, is awarded with the "Harpagan" Title. The term "Harpagan" describes a person who is vivid and full of energy as well as slightly mad and furious at the same time.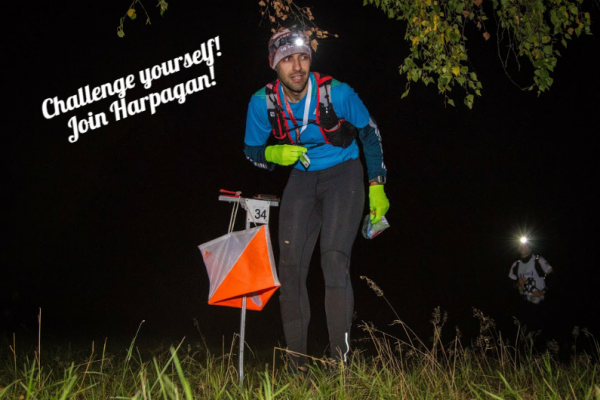 DATE & PLACE
Date: 20-22 April 2018 r.
Headquarters: little town Choczewo, Szkolna 2 Street, Pomeranian Voivodeship. View in Google Maps
ROUTES, FEES & DEADLINES
Early fee - before 26.03.2018 (transfer)

Standard fee - 27.03.2018-09.04.2018 (transfer)

Late fee - later than 10.10.2017 (transfer) or at the headquarters 20-21.10.2017 (cash)


Prices below are in EUR, so that you can make an international bank transfer. In registration form, all the prices are in PLN.
Route codename
Route
deadline
(hours)
Early fee
Standard fee
Late fee
FAMILY TIME
TP10 walk/run 10km (12 y.o. or younger)
5
5 EUR
7 EUR
9 EUR
TP10 walk/run 10km (13 y.o. or older)
10 EUR
14 EUR
18 EUR
INTERMEDIATE
TP25 (walk/run 25km)
8
20 EUR
25 EUR
30 EUR
TP50 (walk/run 50km)
12
25 EUR
32 EUR
40 EUR
TR50 (bicycle 50km)
6
20 EUR
25 EUR
30 EUR
TR100 (bicycle 100km)
10
25 EUR
32 EUR
40 EUR
CLASSIC
TP100 (walk/run 100km)
24
25 EUR
32 EUR
40 EUR
TR200 (bicycle 200km)
14
25 EUR
32 EUR
32 EUR
TM150 (walk/run 50km + bicycle 100km)
19
25 EUR
32 EUR
32 EUR
F.A.Q. (Frequently Asked Questions)
WHAT IS INCLUDED IN THE FEE?
Colourful map (actualised while preparing the routes)
Colourful start number
Interesting starter pack
Sport Ident System Support
Hot meal at the finish
Access to the shower (in headquarters)
Medals for everyone at the finish line!
Colourful diplomas for everyone
Cups/medals for the best participants
A place to sleep in a gym/classrooms (bring your own mat & sleeping bag)
Medical support in headquarters and at some checkpoints (marked on the map)
Water to refill bottles and food at some checkpoints (marked on the map)
Organizers and volunteers support during the event
REQUIRED AND SUGGESTED EQUIPMENT
Sport Ident chip (6, 8, 9). You can also borrow SI chip from us (extra fee 10 PLN + deposit 50 PLN)
Compass
Clothes adequate to the weather conditions
Food & beverages (if needed)
Headlamp (classic routes)
Front and rear lighting installed on your bike (route TR200)
THE PROGRAMME
Friday
6:00 pm – Harpagan headquarters opens
9:00 pm – start of TP100 and TM150 routes
Saturday
6:30 am – route TR200 starts
7:30 am – route TP50 starts
7:30-14:00 am – transition time for route TM150
8:30 am – route TR100 starts
9:30 am – route TP25 starts
10:30 am – route TR50 starts
11:30 am – route TP10 starts
3:00 pm – route TM150 finish
4:30 pm – routes TR50 and TP10 finish
5:00 pm – closing ceremony for TP10
5:30 pm – routes TP25 and TR100 finish
6:30 pm – route TR200 finish
7:30 pm – route TP50 finish
9:00 pm – route TP100 finish
22:00 pm – Official Closing Ceremony for all routes except TP10
Sunday
by 9 am – participants have to leave headquarters
FORBIDDEN STUFF
Global navigation satellite receivers (incl. smartphones) with any maps installed are strictly forbidden. You can use your GPS/GLONASS receiver only to obtain distance/speed or record the track. Also any support (transportation, extra food/drinks) given by third party is not allowed.
DO YOU HAVE ANY OTHER QUESTION?
STEP-BY-STEP PARTICIPANT APPLICATION
1. Fill in the form on the website:
2a. Make a transfer (early/standard/late fee):
Name of organizer: PKO HARPAGAN, Ogarna 72 Street, 80-826 Gdansk, Poland
Account number: PL 62 1090 1098 0000 0001 0362 6857
SWIFT (BIC) code: WBKPPLPP
Transfer description: Harpagan [YOUR ROUTE] [YOUR NAME]
or
2b. Pay just before the start at the headquarters (late fee) – cash needed!
3. Come and have fun!